What is Dust Bag® - Dust Collector?
Dust Bag® – dust collectors, are fitted with Non-woven polyster fabric capable of capturing dust particles as small as 10 microns from buffing, grinding, cutting, sandering, etc.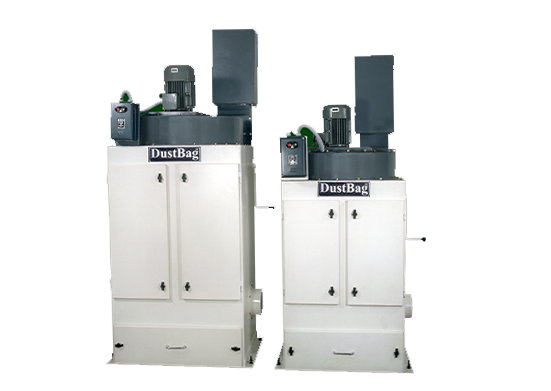 This equipment can capture large quantities of dust from any generating source with high capture efficiency. The Dust Bag® – dust collector uses non-woven polyester cloth as the filter media. We can incorporate additional safety features such as pressure differential switch, fire retardant as well as antistatic filter media, etc., as optional accessories. These systems contribute to a safer, healthier work environment where toxic airborne pollutants are removed. We provide excellent factory support.
Dust Bag® – dust collectors can be used to capture dry or mildly wet particles from tool & cutter grinders, cast iron machining, graphite / carbon machining, surface grinders, drilling, milling, deburring, polishing, mixing etc.
The Dust Bag® dust collector can be used in 2 ways. It can be used for pedestral grinders or similar applications where the grinding wheel can be enclosed upto 70% with a specially designed suction hood. It can also be used for surface grinders, CNC machining, or similar application where the wheel or machining tool cannot be enclosed. In this case a rectangular suction hood can be placed facing the stream of the dust particles near the grinding wheel edge or machining tool edge. During the dust generation process, dust particles are drawn into the Dust Bag® through the suction hood. The larger dust particles in the airstream, after entering the Dust Bag® fall to the bottom collection tank immediately. The finer dust particles reach the filter bag and are trapped there. The filter bags can be de-dusted manually or automatically (option). It is not necessary to remove the bags for cleaning.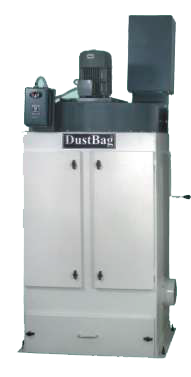 Technical Specifications*
* Tapered dust collection bin fitted with trapdoor or rotary valve for dust removal (other specifications will remain the same as above)*
The following can be provided as optional extras: Motorised de-dusting(motorised bag shaker), Extractor Arm can be fitted, Tapered dust collection tank with trapdoor or rotary valve for dust removal.
* Due to continuous innovation, specifications are subject to change without notice.